Not sure which solution fits your business needs?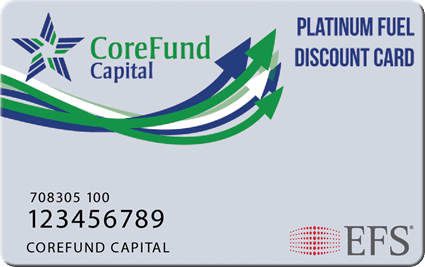 Discount Fuel Card
CoreFund Capital's Fuel Card for truckers provides access to over 5,000 truck-stops nationwide with additional discounts off the cash price. This pre-paid fuel card option is powered by Electronic Fund Source (EFS) and can be used anywhere EFS Fuel Cards are accepted.
Because fuel costs can account for up-to 30% of a transportation company's total operating budget, it's critical to make each dollar count. While you can't control the price of fuel, there are techniques that your drivers can utilize to reduce fuel consumption. Beyond those strategies, it's critical to track, and control, your fleet's fuel usage.
Start Saving on Your Fuel Today! 
Here are a few of the benefits of enrolling in CoreFund Capital's EFS fuel card for truckers:
Huge discounts
Send your factor proceeds directly to your fuel account
Real-time reports for monitoring and cost-improvement
Manage drivers' cards
Finance and settlement arrangements
Contact CoreFund Capital
Whether you're unsatisfied with your current fuel program or are looking to experience the benefits of EFS for the first time, CoreFund Capital can maximize how you're leveraging your fuel costs.
To learn more about putting CoreFund Capital's expertise to work for you, contact us now!